Secure Shredding & Empowerment: Opportunities Inc. Shred IT TXK Program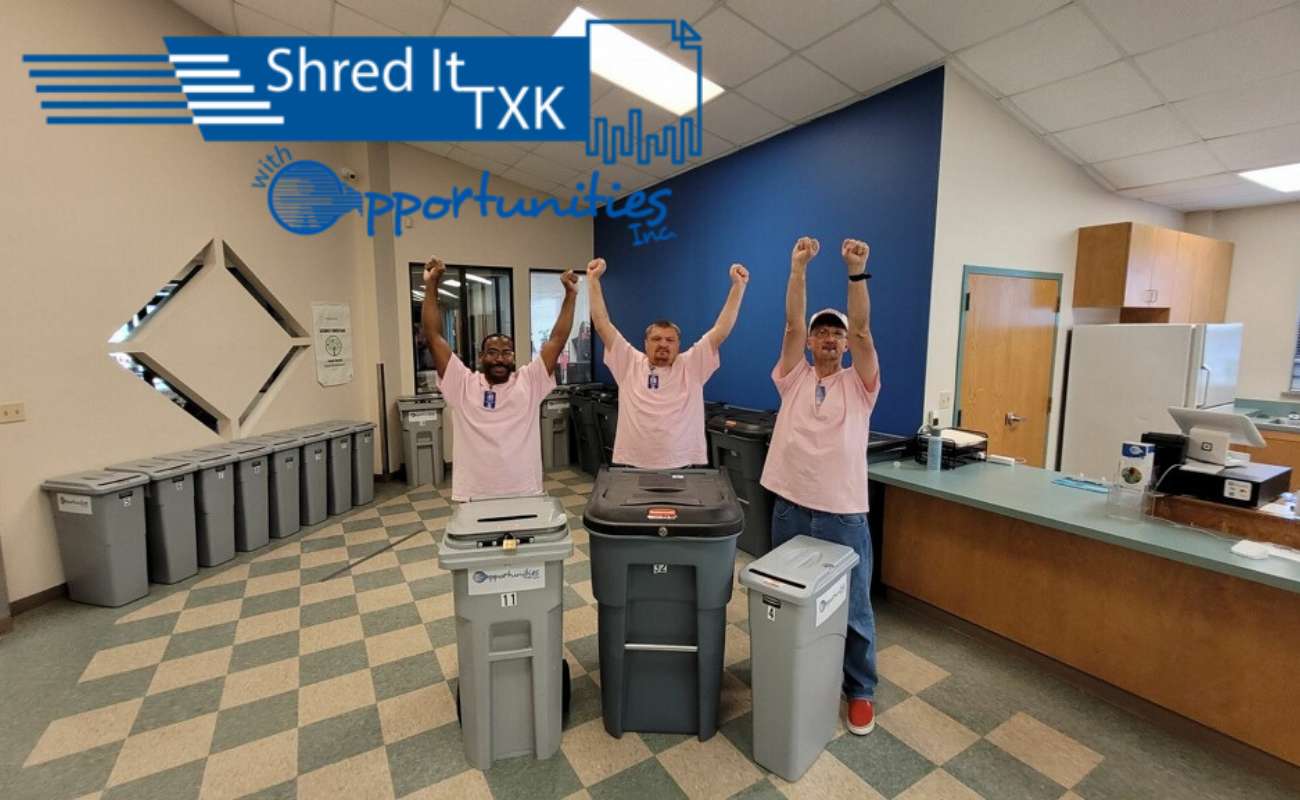 Opportunities Inc., a pioneering organization dedicated to empowering individuals with disabilities through employment, is excited to announce an upcoming project to revolutionize document destruction services.
We will soon introduce mobile shredding with our new Shred It TXK truck, offering on-site shredding solutions. This latest addition will enhance security and convenience, enabling businesses to streamline their document destruction process.
Join us as we explore how Opportunities Inc. transforms lives and fosters independence through our remarkable Shred It TXK Program while revolutionizing shredding services for our valued clients.
Streamlined Document Destruction
With the forthcoming launch of our state-of-the-art mobile shredding truck, Opportunities Inc. is set to redefine document destruction. Clients will no longer have to rely on traditional transportation methods or wait for their documents to be transported to our NAID-certified facility on campus.
Our mobile shredding service will bring the shredder directly to your location, providing you with a front-row seat to witness the destruction of your sensitive documents. This streamlined process will save valuable time and empower you with complete control over the entire shredding process, ensuring maximum security and peace of mind.
Convenience at Your Fingertips
At Opportunities Inc., we understand that every business has unique document destruction needs. Our forthcoming mobile shredding service will offer unparalleled convenience, providing flexible options.
Whether you prefer on-site shredding with our Shred-It TXK truck visiting your location or the convenience of dropping off your documents at a time that suits you, we have you covered. Our dedicated professionals will work closely with you to customize a solution that perfectly aligns with your business requirements. Embrace a hassle-free shredding experience that puts you in control, eliminating the burdensome task of document transportation.
Uncompromising Security
Security is our top priority when it comes to document destruction. Opportunities Inc. takes this matter seriously and remains committed to safeguarding your sensitive information. Our forthcoming mobile shredding service will exceed industry standards, utilizing the cutting-edge Shred-It TXK truck with advanced technology.
It ensures the complete and irrecoverable destruction of your confidential documents. Moreover, our facility holds a prestigious NAID certification, guaranteeing the highest level of professional and secure handling throughout the shredding process. By choosing Opportunities Inc., you can trust that your confidential information is in reliable and trustworthy hands.
Our Remarkable Shredding Work Program
Opportunities Inc. takes pride in our outstanding Shredding Work Program. This program has played a pivotal role in transforming lives, fostering independence, and promoting social integration.
Through the program, individuals with disabilities can develop essential skills, enhance self-confidence, and contribute meaningfully to the community. The Shredding Work Program provides valuable employment opportunities, empowering individuals to showcase their talents, gain financial independence, and build a brighter future.
By utilizing Opportunities Inc.'s shredding services, you directly support this impactful program and join us in making a positive difference.
Opportunities Inc. is committed to providing exceptional services that empower individuals with disabilities and meet the diverse needs of businesses. Our forthcoming mobile shredding service, combined with the remarkable Shredding Work Program, sets us apart in document destruction.
With the introduction of our Shred-It TXK truck, we bring convenience, security, and professionalism directly to your doorstep. Choose Opportunities Inc. as your trusted partner and experience the transformative power of our services while supporting a program that empowers individuals, enhances independence, and strengthens our community.
Related Articles